Houzz recently did a study in the U.S. about bathroom trends. They polled 1,238 U.S. homeowners about master bathroom renovation projects. Here are their results.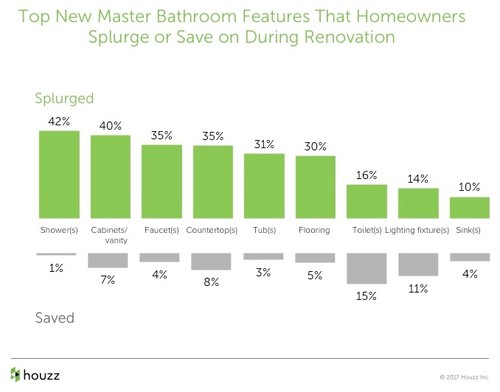 Here are some takeaways from the study.
Showers; lose the tub. Not as obvious from the image above but showers are the No. 1 feature that homeowners splurge on when doing a renovation by 42 percent. Out of those doing the updates 81 percent increase the size of their shower. And 27 percent remove the bathtub completely, so they can have a larger shower.
Older homeowners are aging in place. Homeowners who are 55 and older are spending twice as much on master bath renovations over 100 sq. ft. as those aged 35 and under. Many older homeowners are incorporating accessibility features and they have no plans to move over the next 10 years.
Millenials want more space. Homeowners in the 25-34 age category are more likely to increase the size of their master bath than other homeowners. Of those keeping it the same size, 30 percent feel it is too small for their needs.
Remodel San Francisco. The study shows that San Fransicians spend more than others on their renovations. They spent an average of $34,100 for major remodels of their baths over 100 sq. ft. whereas nationally it ranges around $21,000. Costs vary widely due to bath size, regions and ambitions of the remodel.
Tech and porcelain. An increasing number of homeowners are using their tech devices in their master baths at least once a week. And the demand for high-tech bathroom features is increasing. Twenty-nine percent are upgrading their toilets and 12 percent are upgrading their showers with tech features.
Also, a takeaway from the study was a result that 90 percent of homeowners who renovated changed the style of their bath often resulting in an upgrade. The image below shows that contemporary style is leading the way followed by transitional, modern and then traditional last. The image shows percentages before the project and after the project.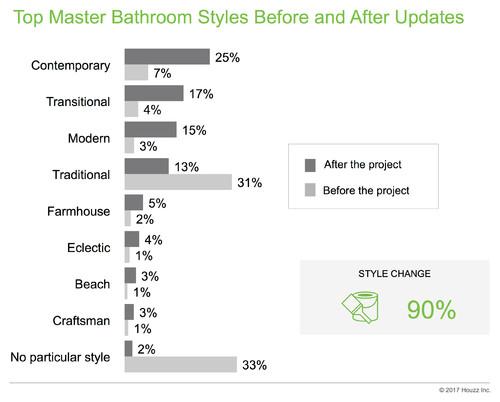 Bathroom renovations styles were split by age group. It
seems renovators aged 35 and up preferred contemporary while 25 to 34 liked
modern style. Another shocker, gray was the top color choice for walls followed
by white and then beige with blue and green bringing up the rear.
White cabinets were picked first by 38 percent with gray,
wood medium, wood-dark and brown following up. White also came out on top for
countertops by 40 percent. Gray reigned dominant as far as floors by 31 percent
of study takers.
So, if it is time to change up your master bath, use some of
these results to help guide you in your renovation especially if you are going
to sell soon. Knowing the results of this study gives you insight into what
potential buyers may be thinking or wanting in their new homes.