Photo by Skitterphoto from Pexels
When it comes time to sell a home, a lot of sellers as me…"Should I spend the money to make upgrades?" "Will it increase the value of my home?" "Will I get back what I put into the renovation?"
These are common questions from homeowners and home sellers. So, I found a report that puts out information that just might answer these questions. The 2019 U.S. Houzz & Home report gives us the median renovation spending amount, how the renovations were paid for and much more.
To begin, a typical renovating homeowner spent $15,000 on home renovation projects in 2018 according to the aforementioned report. The interesting thing is these numbers are about what has been spent over the last two years. So renovations are a steadily increasing business. And more than half the homeowners who subscribed to Houzz are planning renovations for this year.
Now, you may ask, what are they spending all this money on? In 2018, homeowners renovated an average of 2.8 rooms in their home, upgraded 2.7 systems in their home like electrical, plumbing and A/C; and performed 2.4 exterior upgrades. A surge in kitchen remodeling spending which is the most popular and most expensive room in the home. A typical kitchen renovation cost around $14,000. Guest and master bathrooms came in as the third most popular rooms to renovate. Security system upgrades continue to be a popular option with millennials leading the charge over baby boomers.
Top Funding Sources
Cash is still the primary way homeowners are paying for these renovations but credit card use is on the rise. During 2018, 37 percent of homeowners used a credit card compared to 33 percent in 2017.
It was also discovered that as the renovation costs rise, homeowners became more likely to take out a secured home loan, equity loan or use saved cash from a previous home sale, a gift, an inheritance or insurance payout.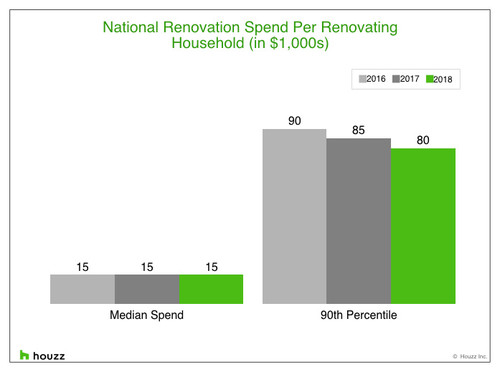 Who is Renovating?
Baby Boomers and Gen Xers make up 81 percent of the renovation homeowners spending around $15,000 a piece. Millennials are about 14 percent and spending around $10,000. Gen Zers are still only a small share of renovating homeowners and spending around $7,000.
Why Does it Cost so Much?
Houzz speculates that the trade war with China is the likely culprit for costs continuing to increase. Just for kitchens, the median spending jumped 27 percent between 2017 and 2018. Master bathroom spending was up 14 percent and non-master bath spending increased 17 percent. These trends are expected to continue.
So, why is this so important? With so many homeowners remodeling and upgrading their homes, they may be choosing to stay in the home longer than anticipated when they first bought the home.
Checking the Cost vs Value Remodeling website, for the South Atlantic region which includes Greenville South Carolina, an upscale master suite addition will cost around $253,821 with a resale value of $131,035. An upscale major kitchen remodels of $126,307 will get you $82,677 resale value. A midrange master suite addition of $121,799 will get you $72,388 resale value. A midrange major kitchen remodel of $63,387 will get a resale value of $40,094. The website goes through various other types of remodels, cost and resale values and will give you a good general idea of what you will spend and what your resale return will be. It also indicates how much of the cost was recouped and whether the change is higher or lower than in 2018.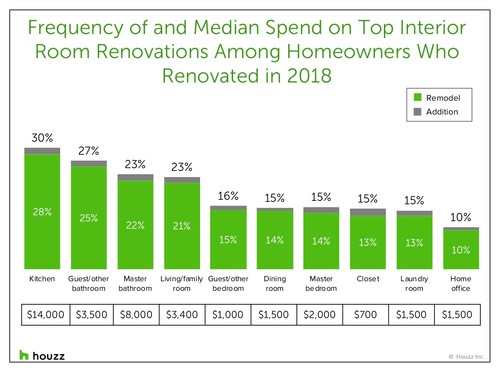 And remember if you, a friend or family member need assistance with selling or buying a home I can help. Referrals and people needing relocation assistance are welcome! Search Single Family homes in Greenville. Search Condos and Townhomes in Greenville.